Our Scoop Shop
Get the full experience of Puerto Rico's first plant-based ice cream scoop shop! Located in the heart of Santurce, inside the gorgeous building Angelina, a space that works in community to empower local entrepreneurs.
Order for Pickup at
Taller Vía Láctea
Plant Based Ice cream pints
Plant-Based Ice cream Cakes
¿A QUÉ NOS DEDICAMOS?
Nos dedicamos a crear helados veganos elaborados con ingredientes a base de plantas, siempre destacando ingredientes locales y de alta calidad.
About Us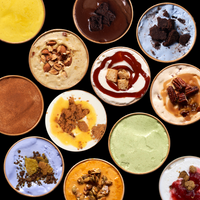 Muy bueno lo probé hace 2 horas y me sorprendió. Yo no soy vegano y es el primer producto vegano que pruebo que tiene buen sabor y el mantecado está a otro nivel.

Albert Tito Yaya Alicea 
¡ESTOS SON LOS MEJORES MANTECADOS! Los descubrí la semana pasada y por primera vez en mi vida sufrí de intoxicación de azúcar puesto que no pude parar de comerlos. ¡Espectaculares! Les deseo éxito. PS: Si necesitan de probadores, ¡soy voluntaria!

Day Guz
VCBB es el mejor helado de chocolate (y vegano 😳) que he probado. Totalmente enamorados de sus creaciones 😋👍

Ivelisse M Cruz Acevedo
Interviews
Vía Láctea Is Serving Puerto Rico Artisan Vegan Ice Cream